Ashley's New York Lakeside Wedding...
See our latest review here, as our beautiful bride Ashley was featured on Strictly Weddings Fall 2017. XO Emily and BWHoney
Hi ladies,
I just wanted to thank you again for everything yesterday! You ladies are fabulous -- everything from the communication beforehand, to the trials, through the actual wedding, was just such a great experience. Not only do you both excel at what you do, but you're so sweet and easy to chat with. Everyone looked like the best possible version of themselves, and I couldn't have dreamed of a better outcome!
I can't wait to work with you again!

- Samantha G. November 4,2017 -Soho Grand Hotel -Artists Emily and Sofia
Hey guys,

What a power couple you are!

I knew you would both do an incredibly fabulous job at my wedding, but wow.

You totally transformed me into the bride I always dreamed to be. You also did such an amazing job with my lovely bridesmaids!!

Everyone felt so beautiful and pampered.

Thank you so much for an unforgettable day! Xoxo
Ashley-September 2017-Tribeca NYC - Hair by Emily
Thank you SO much, Emily! This was such a nice email to receive. I really can't thank you enough not only for the absolutely gorgeous hairstyles you gave me, my mom and my friends (I loved mine so much and never even wanted to put it up in a ponytail like we discussed), but also for how amazing you were to work with from the very first contact through the actual day. I felt so beautiful at my wedding and really have you and Michelle to thank!
I actually came in this morning to find out that one of my coworkers is engaged so I already passed along both of your info for him to give to his fiance (and I'll recommend you every chance I get going forward).
-Jessica-October 2017- NYC Public Library- Hair by Emily, Make-up by Michelle.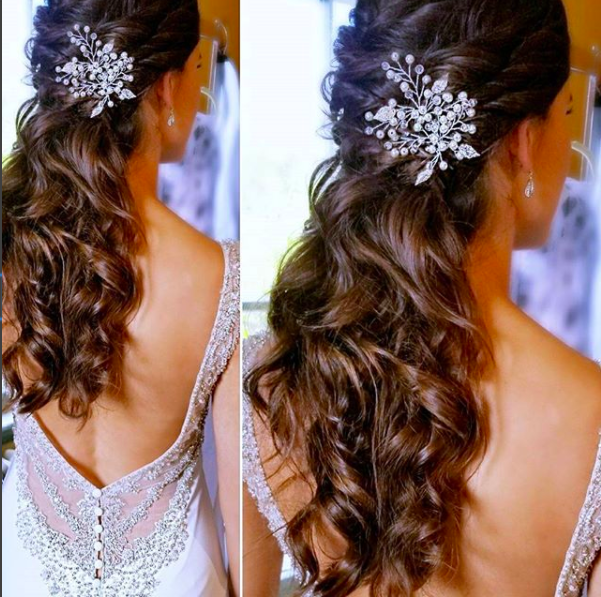 Emily!!! Thank you so much for making everyone look so beautiful yesterday! Everyone was so happy and my hair was BEYOND my expectations. I was blown away and felt sooooo beautiful.
Cant wait to see you soon for a haircut.
Kristen- October 27, 2017- New Paltz, NY
Hair by Emily Make-up by Maggie
Emily,
I just want to say thank you soooo much. Working with you in coordinating /planning the hair & makeup for my wedding day was so seamless & great. You & Jay did such an amazing job. I was beyond happy with my hair & makeup. You both truly accomplished the look I envisioned. My mom also looked great & was so happy!
- Julie- August 2017- Tribeca Rooftop NYC-Hair by Emily Make-up by Jay
A note from BWH Founder Emily...
"This picture makes my heart smile. Sara's beautiful mom giving thanks and in happy tears. I love everything about what I do. I work with my beautiful clients and build long term relationships with them all. I see them in all the major moments leading up to the big day, right before they walk down the aisle. I see them for years after as they grow as women, have children and so much more. I help them change their look to feel their best through all their life milestones. This is why I started my agency, this hug. " - Emily and BWHoney
Emily and Gabby did the most incredible job for my wedding. All the way from my trial to the big day, they were so lovely to work with, overly communicative, and easy to get in touch with. They listened to everything I wanted and worked with me to find the perfect look - I've honestly never felt more beautiful than I did on my wedding day, all thanks to them! They are super talented and can create any look, and they are truly just wonderful energies to have around on your special day. They made all my bridesmaids feels gorgeous as well, and kept us on schedule and without a worry all day. I can't say enough good things - they are the perfect hair and makeup duo!
Daryl- October 2017- Brooklyn, NY-Hair by Emily Make-up by Gabby